Labels for Semiconductor Engraving Machines
Engraved semiconductors and engraved silicon chips receive their markings via a laser engraving machine that consists of three main parts: a laser, controller and a surface structure. The machines that provide semiconductor engravings must be extremely precise. The inherent precision of these machines means that there are dangers associated with them if used improperly. That is why laser engraved or screen printed warning plates must be attached to the machine to warn users of the inherent danger of misusing a semiconductor engraving machine. These plates also act as information guides regarding the proper use of the machine and any specific types of use that must be avoided.
Laser Technology for Semiconductor Engraving Machine Warning Labels
A laser is a device that emits a beam of coherent light through an optical amplification process. There are many types of lasers including gas lasers, fiber lasers, solid state lasers, dye lasers, diode lasers, and excimer lasers.
Lasers are key components of many of the products that we use every day. Consumer products like Blu-Ray and DVD players rely on laser technology to read information from the disks. Bar code scanners rely on lasers for information processing. Lasers are also used in many surgical procedures such as LASIK eye surgery. In manufacturing, lasers are used for cutting, engraving, drilling and marking a broad range of materials. Lasers are utilized in the engraving process of semiconductor machine warning labels.
The Laser Engraving Process
Laser engraving is a process where a laser beam physically removes the surface of the engraved semiconductor or engraved silicon chips to expose a cavity that appears as an image at eye level. Some of the laser engraving process features include:
The laser creates high heat during the engraving process, which essentially causes the material to vaporize.
It's a quick process, as the material is vaporized with each pulse.
This creates a cavity in the surface that is noticeable to the eye and touch.
To form deeper marks with the laser engraver, repeat with several passes.
Custom Screen Printing for Semiconductor Engraving Machine Safety Labels 
Metal-semiconductor machine safety labels can often be tough to print on, no matter the process. However, our screen printing on metal method allows you to create custom screen prints for nameplates, front panel graphic overlays, warning labels, and metal front or rear panels. Our custom metal stamp and screen printing on metal capabilities provide a clear and detailed message that can be easily understood. 
For more information on how custom screen printing on metal can benefit your semiconductor engraving machine, check out our screen printing services.

Screen Printing Material Options for Semiconductor Engraving Machine Warning Labels
Our leading-edge technology and extensive industry experience allow us to provide screen printing on metal and a variety of other materials. Our custom metal stamp and screen printed safety labels for semiconductor engraving machines provide a clear and detailed message that can be easily understood. We can even handle custom printing on translucent colored windows for LEDs or clear LCD windows with patterned adhesive for your LCD display. We can print on any material, including:
Mylar
Vinyl
Lexan
Acrylics
Powerful Adhesives Protect Screen Printing – Even in Harsh Environments
At Sine-tific Solutions, we understand that screen printed warning and safety labels for semiconductor engraving machines need to stand up in a variety of environments. To ensure the success of your project, we can work with you to select the best materials and adhesives for your application. We can offer several adhesive options, including 3M #467 and #468 as well as 3M #9471 and #9472. We can also provide specially formulated adhesives based on your desired specifications. Just let our sales engineers know what environment and surface you need your labels to adhere too, and we can take care of the rest!
Contact Sine-tific Solutions for Semiconductor Engraving Machine Safety Labels Today
Contact us for more information regarding our semiconductor engraving machine safety label capabilities, or request a quote today.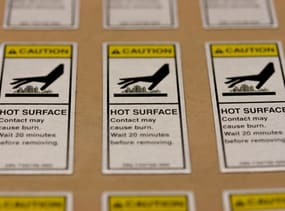 Semiconductor Machine Labels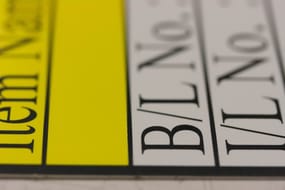 Machine Labeling