We understand that many of our customers are considered "Essential" or "Critical". As a supplier for many companies in the essential critical infrastructure workforce, we will remain open and operating as usual, albeit with a slightly decreased staff.
Aerospace Engraving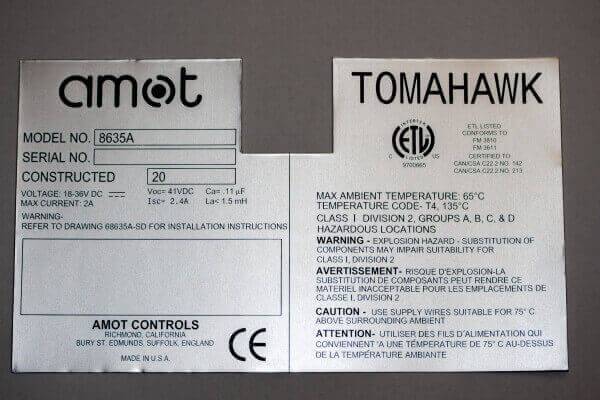 Aerospace Engraving
The Aerospace industry represents the nation's leading manufacturers and suppliers of civil and military components, equipment, services, and information technology. The strict government requirements and regulations have driven the manufacturers involved in this complex and heavily regulated infrastructure to implement advanced, efficient and reliable technologies, capable of complementing strict standards while maintaining a cost-efficient structure.
Recently the United States government and the Department of Homeland Security approved a variety of programs making engraving the essential part identifier for present and future applications for Direct Parts Marking, UID (Unique Identifier), and aerospace industrial engraving applications.
Aerospace Letter Engraving & Military Specifications
Within the aerospace industry, there is a need for affordable, yet precise methods of engraving identifying marks on specialized objects made from a variety of materials following specification AS478-3, specification MIL-STD-130, and other mil-specs. Our aerospace engraving processes provide quality, trustworthy aerospace laser engraving on items that are large or small, simple or complex. We work with virtually any material and offer customized results that specifically address the needs of your project.
Aerospace Industrial Engraving Features & Benefits
Our expert staff works directly with the aerospace industry providing customized, in-house metal part processing. We understand the importance of traceability and serialization of aerospace technology, providing superior results on components of any size, shape, or complexity. Some of the benefits surrounding aerospace engraving include:
Highly accurate detailing
Extreme repeatability
Affordable, low cost
From aerospace part processing to letter engraving and serialization, and aerospace part marking, Sine-tific Solutions offers an array of services to keep aerospace industry leaders on the cutting edge of technology.
Aerospace Industrial Engraving Applications
Our technology provides efficient, maintenance-free, non-destructive and non-dimension-changing solutions for the following applications:
Aerospace letter engravings on precision parts, tools, igniters, etc.
Aerospace part processing
Service & identification marks
Serialization & traceability
Nameplates, panels & controls
And more
Aerospace Part Processing & Traceability
Aerospace part processing and traceability are critical aspects of manufacturing in the aircraft and aerospace businesses. Aircraft parts and components must be tracked throughout the manufacturing process and lifetime use of the equipment. Having a precise and reliable integrated part marking solution is essential for any aerospace manufacturer.
When you require high contrast and precise engravings on your aerospace components, then aerospace engraving through Sine-tific Solutions is the solution you can trust. We can provide your desired results with very little lead time. In terms of marking complicated symbols, texts, logos, and graphics Aerospace industrial engraving offers unlimited possibilities. This precise method guarantees clear and permanent engravings on virtually any aerospace part that are readable by both human and machine. At Sine-tific Solutions, we have the capabilities to provide premium aerospace engraving, part processing and traceability for all your aerospace project needs.
Contact Sine-Tific Solutions Today
Contact us for more information regarding our aerospace industrial engraving services, or request a quote today.
We are a leading California screen printing and industrial engraving company since our founding in 1963.
CONTACT US
REQUEST A QUOTE