Photosensitive Metal Services & Products
Photosensitive metals possess a quality that make them react to visible light in such a way that creates images on the metal's surface. This quality is used to create nametags, nameplates, portraits on metals and other metal items.
Custom Metal Photo Plates & Printed Metal Labels
We have the capabilities to create custom metal labels with imprinted images on one or both sides of the photosensitive plate or sheet. Using a die cutting machine or CNC technology, we can produce photosensitive metal labels in sizes and shapes to match your exact specifications. A variety of mounting options are available for custom metal labels and ID tags. Some of the common everyday uses for metal labels include data plates, ID plates, asset tags, logo nameplates, model/serial labels, Instruction labels and more.
Custom Metal Photo Prints
Metal photos or metallic prints are modern, high definition art pieces made of a sleek metal panel (usually aluminum), layered with any black and white image of your choosing. Metal photos provide a modern design that incorporates the photo of your choosing. They also provide a longer lifespan than paper photos, while being scratch-resistant and waterproof. The image within metal photos also looks great because it is infused into the metal and not just layered on top of it. This makes the metal photo clearer and more radiant than standard paper photos.
Photosensitive Metal Military Equipment Labels
During the manufacturing process, many of our metal label products adhere to Mil Spec 19834 as an overall quality guideline. Mil Specs were originally designed for the military but eventually carried over into the civilian world. The strict guidelines within Mil Specs provide a standard of what should be expected within certain manufacturing processes.
Mil Spec 19834
Mil spec 19834 is a military spec engravings standard for adhesive backed foil plates. Mil Spec 19834 products are used for both internal and external equipment identification and instruction plates. This specification covers adhesive backed metal foil identification or instruction plates, also referred to as identification plates, for use as internal and external equipment identification or instruction.
Mil Spec 15024
Mil Spec 15024F is a military spec engravings standard for Military identification that requires characters to be either sunken or relief etched into a metal or plastic plate. Mil Spec 15024 performance specification covers the physical characteristics of plates, tags, and bands (identification devices) used for identification of equipment.
How are Photosensitive Metals created?
The process of photosensitizing metals to create a metal sensitive to visible light or radiant energy makes it useful for the many applications. These plates are sometimes called metal photo plates for the simple reason that the images on these are produced the same way old fashioned printed photos were produced. This is accomplished by exposing the parts that are sensitive to light to this radiant energy, which then results in the images appearing on the item in question.
Contact Sine-tific Solutions Today for Metal Labels & Metal Photos
We have the knowledge and industry experience to help you create a photo-sensitive metal product that matches your vision. We can assist you in selecting the optimal materials, adhesives, and finishes for your photo-sensitive metal labels project needs. Contact us for more information regarding our options and capabilities, or request a quote for an in-depth price analysis today.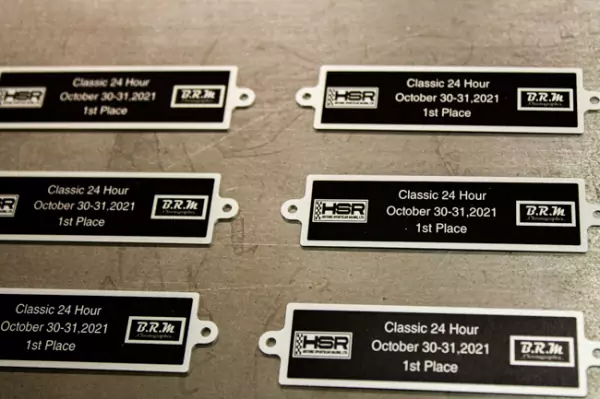 Photosensitive Metal Labels