Machine Safety Labels
Machine safety warning labels are designed to protect your company's employees, inventory and workplace. Danger labels and other OSHA and ANSI approved signage provide colorful, clear and easy to understand danger warnings for a wide range of equipment, machines and hazardous areas. Machine safety labels and danger labels are also ideal for marking company assets, organizing inventory, and marking items for maintenance or repair. 
OSHA & ANSI Safety Label Requirements and Options
OSHA (Occupational Safety and Health Administration) and ANSI (American National Standards Institute) compliant safety labels help you identify employees and visitors, comply with safety regulations, warn employees about potential hazards, which promotes a safer overall workplace. ANSI-ISO compliant labels ensure that machines and equipment manufactured for use internationally have warning symbols that can be easily understood even though the language the label is written in may be different.
OSHA and ANSI compliant safety labels are available in a wide variety of colors, sizes, and messages. These specific machine safety labels allow your business to promote safety throughout your entire facility while remaining in compliance with regulations. Our OSHA and ANSI safety labels can be displayed in many places, on machinery and equipment, and in potentially dangerous areas.
Machine Safety Label Benefits
Safety labels, decals, and signage can play a critical role in promoting safety and preventing injuries within the workplace. There are numerous benefits associated with machine safety warning labels and danger labels, these include: 
Custom Machine Labels for Wayfinding
Wayfinding is designed to move a goer from one point to another. These types of labels can also point out dangerous areas as well as places that are off limits. Some of the benefits of wayfinding safety labels include: 
Steer clear of hazardous areas - Inform users of alternate routes when they might otherwise walk through an area littered with heavy-duty machinery, slippery surfaces, and other dangers.
Avoid congestion - The more users crowd an area, the more likely they are to encounter (or create) hazards. Help users avoid congested areas and use wayfinding to create safer routes.
Help workers in emergencies - Wayfinding can send users to fire exits, outline emergency egress routes, and clearly point out fire extinguishers and other lifesaving equipment during emergencies. 
Machine Safety Labels for Equipment Maintenance
Equipment requires routine maintenance, service, inspection, and repair. The following types of machine safety warning labels can help workers stay safe around equipment in need of service.
Lockout/Tagout - Lets employees know when certain machines require lockout/tagout (LO/TO) before servicing and inform employees when a LO/TO procedure is being performed.
Instructions - Reminds employees to shut machines off before servicing, check fuel or oil levels, and read directions before starting work.
Specific hazards - Warns employees about a machine's unique hazards (such as the dangers posed by moving parts, high air pressure, and oil pressure) so they can take the appropriate steps before starting work.
Custom Machine Decals
Custom machine safety warning decals can be created to fully customize your specific machine or safety requirements. There are certain safety label conditions that must be adhered to for full OSHA and ANSI compliance. By utilizing our custom machine label processes, we can create safety and danger labels that keep your employees and customers safe while meeting all OSHA and NASI conditions. Our custom machine safety labels allow you to choose from hundreds of options in a variety of colors and variations such as decals made of tamper evident materials or labels that can withstand harsh environments.
Machine Safety Warning Label Options
We have the capabilities of creating very specific custom machine labels and danger labels for your exact needs. Some of the types of machine safety labels we can create, include:
Conveyor safety labels
Moving parts hazard labels
Keep hands clear labels
Cut hazard labels
Hot surface labels
Crushing hazard labels
Rotating blade hazard labels
And many more
Contact Sine-tific Solutions for Machine Safety Labels Today
Contact us for more information regarding our machine safety warning labels and OSHA/ANSI compliant danger labels, or request a quote today for an in-depth price analysis.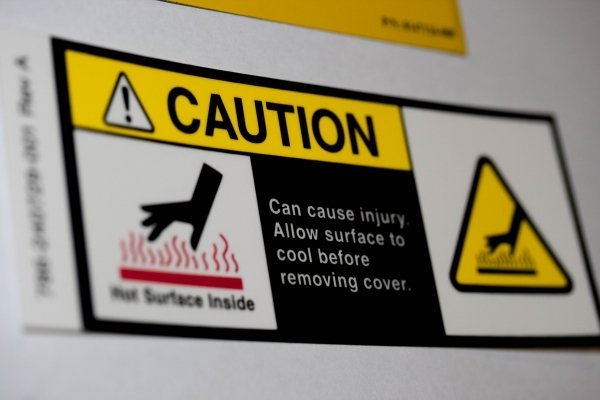 Machine Safety Labels